Luxury Flat Sheets Egyptian Cotton
Luxury Egyptian cotton flat sheets
Comfortable sheets
What we are looking for at bedtime is to enjoy a restful and relaxed sleep. So we should focus on what each type of fabric chosen for our bedding can offer us. For that reason, our Egyptian cotton flat sheets provide you with both softness and comfort for your rest time.
Our sheets are very soft and have been made with a very special care to offer our customers only the best found in the textile market. If we focus our attention on the fabrics, we discover that not all of them contribute to the relaxation and the right sensations needed for a restful sleep. So choosing a high quality Egyptian cotton fabric will lead to a good restful sleep.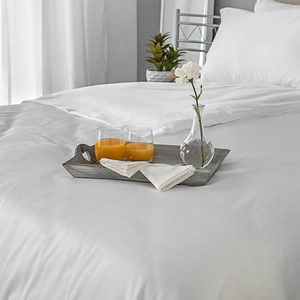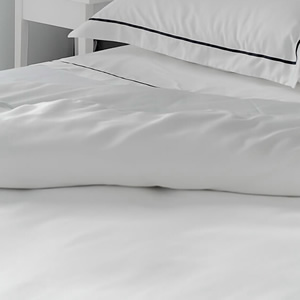 The best choice for your bed
The Egyptian cotton flat sheets are undoubtedly the best option when you're looking for both quality and softness in your sheets. These are of a higher quality in comparison to other fabrics in terms of softness and durability, since in other synthetic fibers, we run the risk of having to deal with "balling" that often appears or that the cotton becomes ruined as time goes by.
Our Egyptian cotton flat sheets are luxurious, fresh and soft sheets, with a bright look and which offer a silky touch. This becomes apparent when in contact with your skin, since they have a touch of sateen in their construction.
High quality flat sheets
Nowadays, the textile market is opting more and more frequently for a natural and purer fabric which can also offer a higher quality and durability over time. For this reason, Connie Home offers a range of 100% Egyptian cotton flat sheets both in 300 and 500 thread count.
These are luxury sheets characterised by their high quality and softness. We supply a great variety of the Egyptian cotton flat sheets, with or without embroidered borders, creating a stylish, soft touch to our luxury sheets.
Connie Home provides flat sheets in all the UK sizes you may need such as single, double, king and super king bed sizes. Enjoy these luxurious collections made of high quality Egyptian cotton designed specifically for a discerning public always looking for the best bed linen.