Harmony Collection Luxury Sheets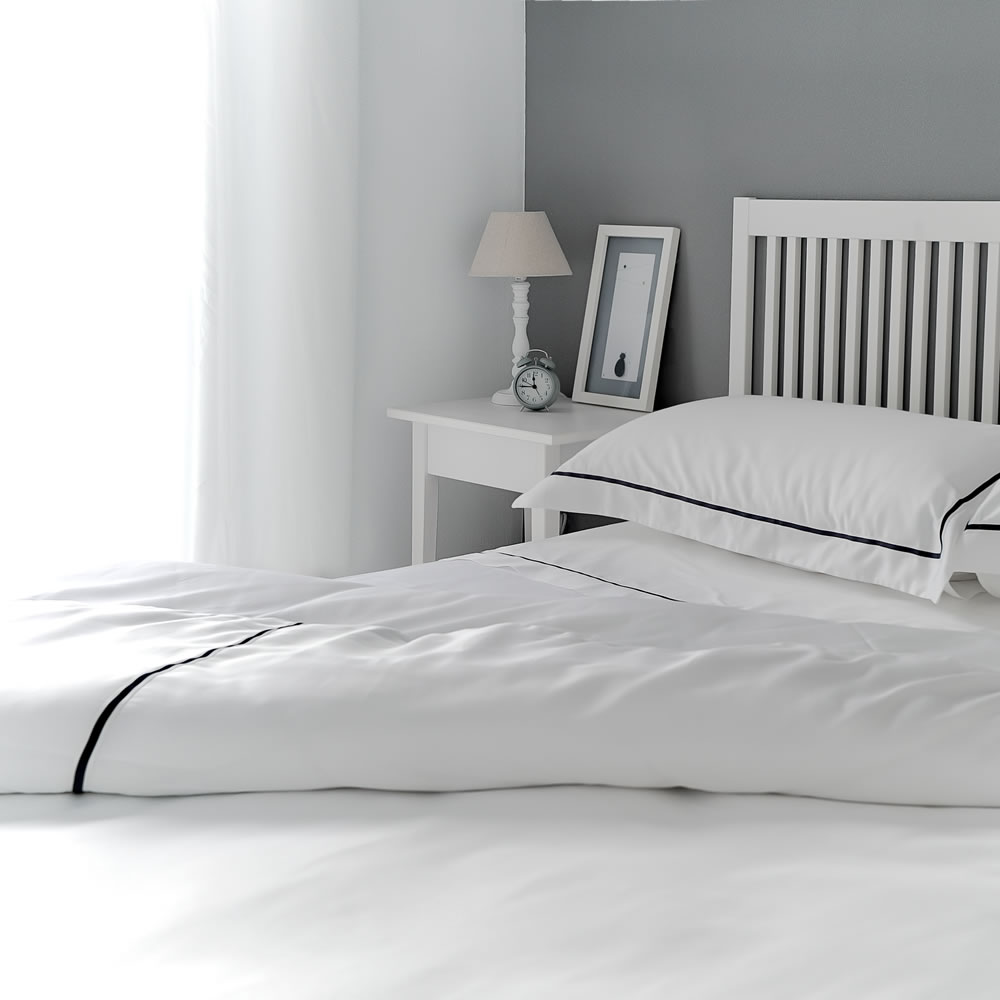 Luxury Bedding Harmony Collection
Luxury natural bed linen
Our Harmony collection sheets are a wonderful opportunity to enjoy the pleasures of relaxing moments thanks to the natural materials used in the manufacture of this collection.
Only 100% Egyptian cotton with a satin touch is used in the duvet covers, flat sheets, fitted sheets and pillowcases. The introduction to the textile of a soft satin fibre creates a fantastically silky feel to the touch and appearance to this bed linen range.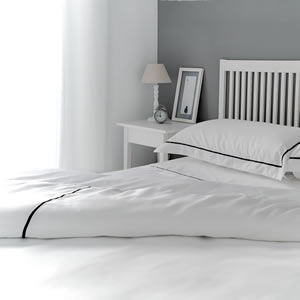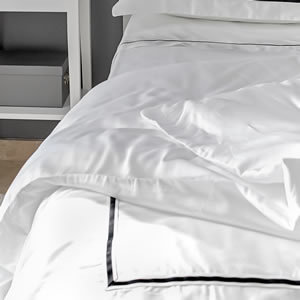 Luxury cotton bedding
The objective of Connie Home with this luxurious range is to introduce to you a collection of bed linen which will wrap you in the arms of luxury bedding. Made with the highest quality natural and delicate textiles.
Finished with exquisite hand finished borders. Our Harmony collection sheets are made in Portugal where the production of high quality bed linen is a local tradition. We use a luxury 300 thread count Egyptian cotton in all parts of the Harmony collection.
Elegant embroidery
The navy blue borders of the Harmony collection give an attractive finish to the range. The embroidered border goes around each edge of the duvet cover and Oxford pillowcase. The upper edge of the flat sheet is finished with a navy blue border. The predominantly white colour of this collection is designed to create a feeling of being both natural and elegant.
Creating in your bedroom an ambiance of purity and elegance while remaining simple and natural. The Harmony collection duvet cover includes an ingenious button closure system which is practically invisible and when the duvet filling is inserted into the duvet cover the closure is hardly noticeable.
The fitted sheet in this collection is pure white with adjustable elasticated corners to adapt and fit snuggly to your mattress. The Harmony Oxford pillowcase has a traditional envelope style closure allowing easy introduction of the pillow.